Little Rock Blues Tour – 2018
Big Train and the Loco Motives spent several days bringing the gospel of the Red Dirt Blues to the folk in Little Rock, Arkansas the week of September 26, 2018. If you haven't visited Little Rock, it's worth the trip. Lots of fun, quirky music venues packed with folks who appreciate live music, especially the blues. Also several significant civil rights locations too.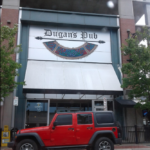 BTLM started off the trip with a Wednesday night visit to Stickyz Rock-n-Roll Chicken Shack, which was an absolute hoot. And the chicken was pretty damn good, too. These folks are off da' hook! It's worth the drive just for the chicken!
Thursday night took us to another cool live music joint in the downtown area called Dugan's Pub. This place is set up for bands and gets some good blues bands through there. Fun place to play and we want to get back there soon!
Friday night took us to the Revolution Music Room – what a venue! Great room with an awesome house sound system and Roger was the best to work with. It was really fun playing this size venue and have such a great audience response.
Saturday night we made it across the river to Reno's Argenta Cafe which gave us a chance to play in a venue half the size of the night before, but have twice as much fun. Strange how that works. Great menu, great folks, and so appreciative of the Red Dirt Blues. Can't wait to get back there again.
We finished up the week with a rare Sunday night performance at The Joint Theater and Coffeehouse. One of the owners (Garrett) heard us earlier in the week and wanted us to come in and do the Sunday night there. How could we say no? Loved it! Wonderful folks, appreciative crowd, neat place to play the blues.
All in all it was a fantastic trip to Little Rock, and we're planning on a return trip in the next 12-18 months. Look for us then!