A Month of Blues History
June
This is the history of the blues – one month at a time.
June 26, 1893 – Big Bill Broonzy, American blues singer and guitarist (Blues by Broonzy), born in Scott, Mississippi (d. 1958)
June 3, 1897 – Memphis Minnie, blues musician, born in Algiers, Louisiana (d. 1973)
June 15, 1900 – Paul J Mares, American jazz trumpetist/composer (Farewell blues)
June 10, 1910 – Howlin' Wolf [Chester Arthur Burnett], American blues musician (Smokestack Lightnin', Killing Floor), born in White Station, Mississippi (d. 1976)
June 9, 1915 – Les Paul, American jazz, country and blues guitarist, songwriter and inventor (solid-body electric guitar), born in Waukesha, Wisconsin (d. 2009)
June 28, 1915 – David "Honeyboy" Edwards, American delta blues guitarist, born in Shaw, Mississippi. In the early 21st century, living links to the immortal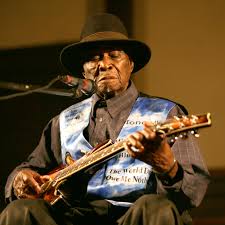 Robert Johnson were few. After the passing of Robert Jr. Lockwood in 2006, David "Honeyboy" Edwards was generally regarded as the last of the Delta bluesmen who had actually played and traveled with Johnson himself, and with Edwards' death in Chicago in August 2011 at age 96, that last link passed into history.
For much of his life, Edwards was something of an underappreciated figure, but not in his latter years — his slashing, Delta-drenched guitar and gruff vocals were as authentic as Delta blues ever got. Edwards had it tough growing up in Mississippi, but his blues prowess (his childhood pals included Tommy McClennan and Robert Petway ) impressed Big Joe Williams enough to take him under his wing. Rambling around the South, Honeyboy experienced the great Charley Patton and played often with Johnson.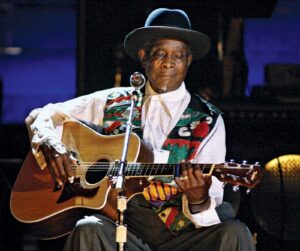 Musicologist Alan Lomax came to Clarksdale, Mississippi in 1942 and captured Edwards for Library of Congress-sponsored posterity. Commercial prospects for the guitarist were scant, however — a 1951 78 for Artist Record Co., "Build a Cave" (as Mr. Honey), and four 1953 sides for Chess that laid unissued until "Drop Down Mama" turned up 17 years later on an anthology constituted the bulk of his early recorded legacy, although Edwards was in Chicago from the mid-'50s on. The guitarist met young harpist/blues aficionado Michael Frank in 1972. Four years later, they formed the Honeyboy Edwards Blues Band to break into Chicago's then-fledgling North Side club scene; they also worked as a duo (and continued to do so on occasion for many years thereafter).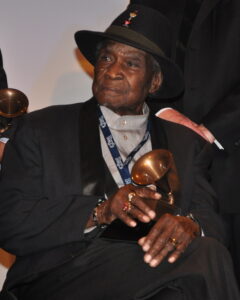 When Frank inaugurated his Earwig label, he enlisted Honeyboy and his longtime pals Sunnyland Slim , Big Walter Horton , Floyd Jones , and Kansas City Red to cut a rather informal album, Old Friends, as his second release in 1979. In 1992, Earwig assembled Delta Bluesman, a stunning combination of unexpurgated Library of Congress masters and then-recent performances that showed Edwards had lost none of his blues fire. He remained active up through the first decade of the 21st century, collaborating with Henry Townsend (who died in 2006), Pinetop Perkins (another legendary bluesman from Edwards' generation who died in 2011), and Lockwood on Last of the Great Mississippi Delta Bluesmen: Live in Dallas , which won the 2008 Grammy Award for Best Traditional Blues Album.
David "Honeyboy" Edwards also received a lifetime achievement Grammy Award in 2010. The next year, Edwards announced his retirement due to his declining health. A month after that proclamation, David "Honeyboy" Edwards died from congestive heart failure on August 29, 2011. His first posthumous album, I'm Gonna Tell You Somethin' That I Know: Live at the G Spot , arrived in 2017.
June 3, 1924 – Jimmy Rogers, American blues musician (Muddy Waters' Band), born in Ruleville, Mississippi (d. 1997).
June 9, 1924 – "Jelly-Roll Blues" is recorded by blues great Jelly Roll Morton.
June 18, 1925 – Herman "Ace" Wallace, Amercian blues guitarist and singer, born in St Louis Missouri (d. 1996).
June 25, 1925 – Clifton Chenier, American blues singer (Bayou Blues), born in Opelousas, Louisiana (d. 1978).
June 27, 1925 – Doc Pomus [Jerome Solon Felder], American blues singer and songwriter (Save the Last Dance for Me), born in Brooklyn, New York (d. 1991).
June 28, 1928 – Louis Armstrong makes 78 recording of "West End blues".
June 7, 1932 – Tina Brooks, American blues and funk saxophonist (True Blue), born in Fayetteville, North Carolina (d. 1974).
June 9, 1934 – Wild Jimmy Spruill, blues guitarist born this day.
June 6, 1939 – Gary U.S. Bonds [Gary Anderson], American blues singer and songwriter (New Orleans), born in Jacksonville, Florida.
June 25, 1940 – Clint Warwick [Albert Eccles], English bassist (Moody Blues), born in Birmingham, England (d. 2004).
June 19, 1945 – Robert Franklin Palmer Jr., American writer, musicologist, and musician (Deep Blues), born in Little Rock, Arkansas.
June 15, 1946 – Duris Maxwell [a.k.a. Ted Lewis], Canadian drummer (Bobby Taylor & the Vancouvers, Powder Blues Band), born in East York, Ontario, Canada.
June 1, 1948 – Sonny Boy Williamson I [John Lee], American blues musician (Down & Out Blues), dies at 34.
June 24, 1948 – Patrick Moraz, Swiss progressive rock keyboard player (Yes, The Moody Blues), born in Morges, Switzerland.
June 4, 1958 – Wedding – Blues musician B.B. King (32) weds his second wife Sue Hall.
June 12, 1968 – Bobby Sheehan, American musician (Blues Traveler), born in Summit, New Jersey (d. 1999).
June 12, 1970 – Rocker and blues singer Janis Joplin debuts in Kentucky.
June 8, 1972 – Jimmy Rushing, US blues singer, dies at 68.
June 5, 1977 – "Sleepy" John Estes, American Blues musician ("Drop Down Mama"), dies at 78.
June 12, 1977 – Kenny Wayne Shepherd [Brobst], American blues-rock guitarist, born in Shreveport, Louisiana.
June 5, 1979 – Wedding – Blues musician Muddy Waters (64) weds Marva Jean Brooks (25) in Chicago.
June 16, 1980 – Musical comedy film "Blues Brothers" with Dan Aykroyd and John Belushi premieres in Chicago.
June 20, 1980 – Film "Blues Brothers" with Dan Aykroyd and John Belushi opens in 594 theaters.
June 2, 1982 – "Blues in the Night" opens at Rialto Theater NYC for 53 performances.
June 29, 1987 – Elizabeth Cotton dies at the age of 94. As a self-taught left-handed guitarist, Cotten developed her own original style. She played a guitar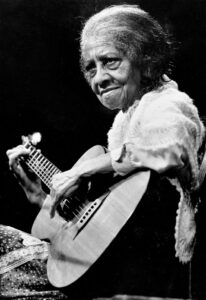 strung for a right-handed player, but played it upside down, as she was left-handed. This position required her to play the bass lines with her fingers and the melody with her thumb. Her signature alternating bass style has become known as "Cotten picking".
Elizabeth Cotten was among the most influential guitarists to surface during the roots music revival era, her wonderfully expressive and dexterous fingerpicking style a major inspiration to the generations of players who followed in her wake. Cotten was born in Chapel Hill, North Carolina, in the early weeks of 1895. After first picking up the banjo at the age of eight, she soon moved on to her brother's guitar, laying it flat on her lap and over time developing her picking pattern and eventually her chording. By the age of 12 she was working as a domestic, and three years later gave birth to her first child.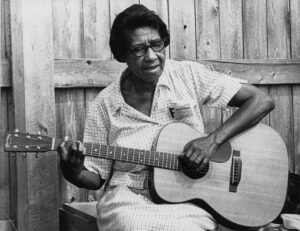 Upon joining the church, she gave up the guitar, playing it only on the rarest of occasions over the course of the next quarter-century. By the early '40s, Cotten had relocated to Washington, D.C., where she eventually began working for the legendary Charles Seeger family and caring for children Pete , Peggy, and Mike . When the Seegers learned of Cotten's guitar skills a decade later, they recorded her for Folkways, and in 1957 she issued her debut LP, Folksongs and Instrumentals. The track "Freight Train," written when she was 12, became a Top Five hit in the U.K., and its success ensured her a handful of concert performances.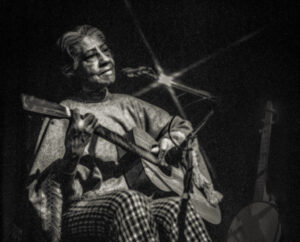 The great interest in her music spurred her to write new material, which appeared on her second album, Shake Sugaree. As Cotten became increasingly comfortable performing live, her presentation evolved, and in addition to playing guitar she told stories about her life and even led her audiences in singing her songs; over the years, she recalled more and more tunes from her childhood, and in the course of tours also learned new material. Cotten did not retire from domestic work until 1970, and did not tour actively until the end of the decade. The winner of a National Endowment for the Arts National Heritage Fellowship Award as well as a Grammy — both earned during the final years of her life — she died on June 29, 1987.
June 9, 1992 – Clarence Miller, blues/jazz vocalist, dies at 69 of a heart attack.
June 27, 1995 – Prez "Kidd" Kenneth, American blues singer and guitarist, dies at 61.
June 21, 2001 – John Lee Hooker, American blues guitarist (Boogie Chillen), dies at 83.
June 10, 2004 – Ray Charles [Robinson], American singer and pianist who pioneered soul music (Georgia on My Mind, Mess Around), dies at 73.
June 3, 2009 – Koko Taylor [Cora Walton], American blues singer known as the "Queen of the Blues", dies of complications from surgery for gastrointestinal bleeding at 80.
June 8, 2011 – Alan Rubin, American musician (Blues Brothers) known as "Mr Fabulous", dies of cancer at 68.
June 23, 2013 – Bobby Bland, American blues and soul singer, dies at 83.
June 15, 2015 – Mighty Sam McClain, American soul and blues singer-songwriter, dies at 72.
June 1, 2018 – Eddy Clearwater [Edward Harrington], American blues musician (West Side Strut), dies of heart failure at 83.