About Us
Big Train and the Loco Motives isn't a finite list of musicians. Whoever shows up gets up on stage.
The only requirements are:
1. Appreciation for the blues,
2. Ability to fly by the seat of your pants, and
3. Enjoy the magic that happens onstage.

The Main Cast of Characters
Musical Brothers in Arms and Assorted Ne'er-Do-Wells
Our Story
Big Train and the Loco Motives are an eclectic group of musicians that come from a variety of genres and backgrounds that have one thing in common: When they are on stage together, they have an absolute blast.
Big Train and the Loco Motives plays what they coined "Red Dirt Blues". It's blues from the Canadian River delta country, or at least as close to a delta as the Canadian River will get. They cover everything from traditional Delta Blues to Texas Boogie-Woogie, from acoustic covers of Classic Rock, to rock covers of Traditional Folk. While it may be hard to nail them down other than they totally enjoy making music, it's guaranteed that everyone who shows up in the audience will also enjoy the show.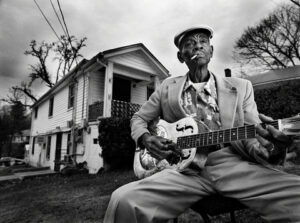 "When all the original blues guys are gone, you start to realize that someone has to tend to the tradition. I recognize that I have some responsibility to keep the music alive, and it's a pretty honorable position to be in."
Behind The Scenes
Come along my baby, whole lotta shakin' goin' on
Yes, I said come along my baby, baby you can't go wrong
We ain't fakin', while lotta shakin' goin' on
Well, I said come along my baby, we got chicken in the barn
Woo-huh, come along my baby, really got the bull by the horn
We ain't fakin', whole lotta shakin' goin' on