A Month of Blues History
February
This is the history of the blues – one month at a time.
February 1, 1902 – Langston Hughes, American poet (Weary Blues) and playwright (Mulatto), born in Joplin, Missouri (d. 1967)
February 2, 1904 – Wedding – US blues singer Gertrude Pridgett marries comic William Rainey. Not sure who Gertrude Pridgett was? Maybe you know her as "Ma Rainey".
February 3, 1911 – Jesse Thomas, blues singer born this day.
February 11, 1914 – Josh White, Blues, folk and gospel musician, born in Greenville, South Carolina (d. 1969)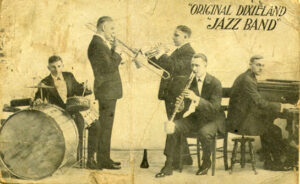 February 26, 1917 – 1st Jazz records recorded – "Dixie Jazz Band One Step" and "Livery Stable Blues" by Original Dixieland Jass Band for the Victor Talking Machine Company. (No that's not a typo – it was originally spelled "jass" and not "jazz".)
The Original Dixieland Jass Band (ODJB) was a Dixieland jazz band that made the first jazz recordings in early 1917. Their "Livery Stable Blues" became the first jazz record ever issued. The group composed and recorded many jazz standards, the most famous being "Tiger Rag". In late 1917 the spelling of the band's name was changed to Original Dixieland Jazz Band.
The band consisted of five musicians who had played in the Papa Jack Laine bands. They were a racially integrated group of musicians who played for parades, dances, and advertising in New Orleans. ODJB billed itself as the Creators of Jazz. It was the first band to record jazz commercially and to have hit recordings in the genre. Band leader and cornetist Nick LaRocca argued that ODJB deserved recognition as the first band to record jazz commercially and the first band to establish jazz as a musical idiom or genre.
February 27, 1920 – Robert L. "Bob" Talley, American jazz and blues pianist and composer (Blues Alley All Star Band), born in Little Rock, Arkansas (d. 1995)
February 26, 1928 – Antoine "Fats" Domino, American rhythm & blues star of the early rock 'n' roll era (Blueberry Hill, Blue Monday), born in New Orleans, Louisiana (d. 2017).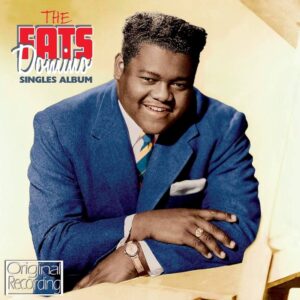 One of the pioneers of rock and roll music, Domino sold more than 65 million records. Between 1955 and 1960, he had eleven Top 10 hits. His humility and shyness may be one reason his contribution to the genre has been overlooked.
During his career, Domino had 35 records in the U.S. Billboard Top 40, and five of his pre-1955 records sold more than a million copies, being certified gold.[5] His musical style was based on traditional rhythm and blues, accompanied by saxophones, bass, piano, electric guitar, and drums. His 1949 release "The Fat Man" is widely regarded as the first million-selling rock and roll record. His two most famous songs are "Ain't That A Shame" and "Blueberry Hill".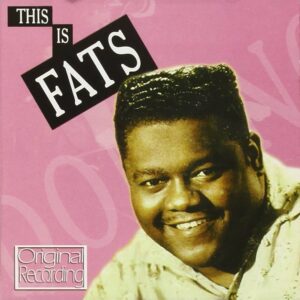 Antoine Domino Jr. was born and raised in New Orleans, Louisiana, the youngest of eight children born to Antoine Caliste Domino (1879–1964) and Marie-Donatille Gros (1886–1971). The Domino family was of French Creole background, and Louisiana Creole was his first language.
Antoine was born at home with the assistance of his grandmother, a midwife. His name was initially misspelled as Anthony on his birth certificate. His family had recently arrived in the Lower Ninth Ward from Vacherie, Louisiana. His father was a part-time violin player who worked at a racetrack. He attended Howard University, leaving to start work as a helper to an ice delivery man. Domino learned to play the piano in about 1938 from his brother-in-law, the jazz guitarist Harrison Verrett.
The musician was married to Rosemary Domino (née Hall) from 1947 until her death in 2008; the couple had eight children: Antoine III, Anatole, Andre, Antonio, Antoinette, Andrea, Anola, and Adonica. Even after his success he continued to live in his old neighborhood, the Lower Ninth Ward, until after Hurricane Katrina, when he moved to a suburb of New Orleans.
February 3, 1937 – Johnny 'guitar' Watson, American blues guitarist, singer was born this day. His ferocious 'Space Guitar' single of 1954 pioneered guitar feedback and reverb. Watson died on 17th May 1996 while on tour in Yokohama, Japan. According to eyewitness reports, he collapsed mid-guitar solo. His last words were "ain't that a bitch".
February 14, 1937 – Magic Sam, rocker (Chicago Bluesman) born on this day.
February 4, 1938 – Joe Beard, American blues guitarist (No More Cherry Rose), born in Ashland, Mississippi.
February 20, 1940 – Larry Clinton & his Orchestra record "Limehouse Blues".
February 23, 1944 – Johnny Winter, [John Dawson], American blues guitarist (Silver Train), born in Leland Miss, (d. 2014).
February 16, 1945 – Pete Christlieb, American jazz bebop saxophonist (Deacon Blues, Unforgettable), born Los Angeles, California.
February 3, 1946 – Stan Webb, English blues musician (Chicken Shack), born in London.
February 8, 1946 – Adolfo "Fito" de la Parra, Mexican blues-rock drummer (Canned Heat), born in Mexico City, Mexico.
February 3, 1949 – Oscar Benton, Dutch blues vocalist/guitarist (Ze is Zoals Jij) born.
February 11, 1949 – "Lovesick Blues" single released by Hank Williams (Cashbox "Best Hillbilly Record of the Year", Billboard Song of the Year 1949).
February 1, 1965 – At the Arthur Smith Studios in Charlotte, North Carolina, James Brown recorded 'Papa's Got A Brand New Bag', which will reach No.8 on the Billboard Pop chart and No.1 on the R&B chart the following August and later win a Grammy Award for Best Rhythm and Blues Recording.
February 1, 1972 – Chuck Berry had his first UK No.1 single with a live recording of a song he'd been playing live for over 20 years 'My Ding-a-Ling'. UK public morality campaigner Mary Whitehouse attempted to have the song banned due to its innuendo-laden lyrics. The Average White Band members guitarist Onnie McIntyre and drummer Robbie McIntosh played on the single.
February 26, 1977 – Bukka [Booker T. Washington] White, American blues guitarist, dies at 70.
February 2, 1983 – Sam Chatman, elder statesman of the blues, dies.
February 24, 1988 – Memphis Slim [John Len Chatman] American blues musician ("Every Day I Have the Blues"), dies at 72.
February 2, 1994 – John Wesley Funchess Littlejohn, blues guitarist/singer, dies at 62
February 5, 1994 – Kenneth "Buddy" Scott, blues guitarist/Singer, dies at 59.
February 14, 1994 – Gary "BB" Coleman, blues vocal/guitarist/producer, dies at 47.
February 22, 1994 – "Papa" John Creach, US jazz musician (Papa Blues), dies at 76.
February 3, 1995 – Turner Fodrell, blues singer/guitarist, dies at 66.
February 12, 1995 – Earring George Mayweather, American blues harmonica player, dies of liver cancer at 66.
February 18, 1995 – Dennis "Denny" Cordell, British rock music and record producer (The Moody Blues, Leon Russell), dies of lymphoma at 51.
February 18, 1995 – John Rhea "Yank" Lawson, American jazz trumpeter (Dogtown Blues, Stormy Weather), dies of a heart attack at 84.
February 28, 1995 – Herman "Ace" Wallace, blues guitarist/singer, dies at 69.
February 3, 1996 – Wild Jimmy Spruill, blues guitarist, dies at 61.
February 16, 1996 – Walter Brown "Brownie" McGhee, American blues singer/guitarist, dies at 80.
February 2, 2007 – Eric von Schmidt, American folk/blues singer-songwriter (b. 1931).
February 25, 2012 – Louisiana Red, American blues musician, dies from stroke at 79.