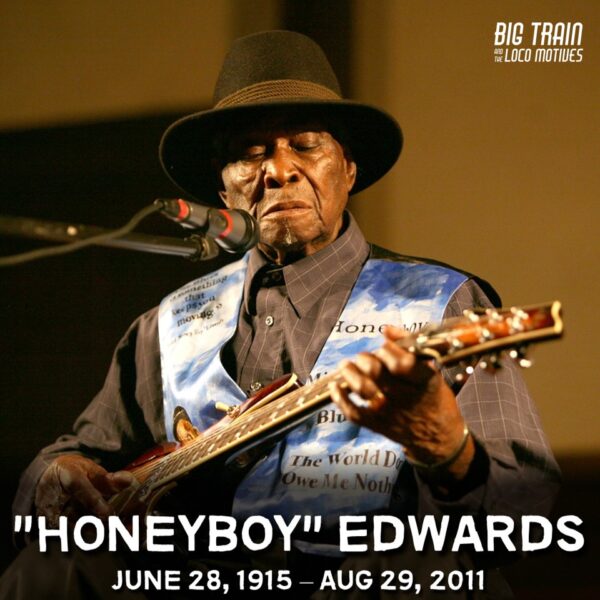 HEY LOCO FANS – Happy B-Day to Honeyboy Edwards. When he died he was the last living link to someone who played and traveled with Robert Johnson.
For much of his life, Edwards was something of an underappreciated figure, but not in his latter years — his slashing, Delta-drenched guitar and gruff vocals were as authentic as Delta blues ever got. Edwards had it tough growing up in Mississippi, but his blues prowess (his childhood pals included Tommy McClennan and Robert Petway ) impressed Big Joe Williams enough to take him under his wing. Rambling around the South, Honeyboy experienced the great Charley Patton and played often with Johnson .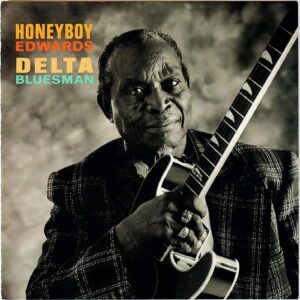 Musicologist Alan Lomax came to Clarksdale, Mississippi in 1942 and captured Edwards for Library of Congress-sponsored posterity. Commercial prospects for the guitarist were scant, however — a 1951 78 for Artist Record Co., "Build a Cave" (as Mr. Honey), and four 1953 sides for Chess that laid unissued until "Drop Down Mama" turned up 17 years later on an anthology constituted the bulk of his early recorded legacy, although Edwards was in Chicago from the mid-'50s on.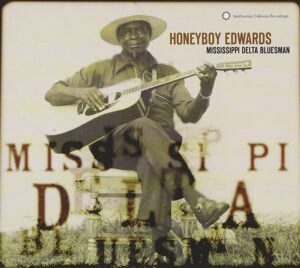 The guitarist met young harpist/blues aficionado Michael Frank in 1972. Four years later, they formed the Honeyboy Edwards Blues Band to break into Chicago's then-fledgling North Side club scene; they also worked as a duo (and continued to do so on occasion for many years thereafter). He remained active up through the first decade of the 21st century, collaborating with Henry Townsend, Pinetop Perkins, and Lockwood on Last of the Great Mississippi Delta Bluesmen: Live in Dallas, which won the 2008 Grammy Award for Best Traditional Blues Album.
David Honeyboy Edwards – Gamblin Man