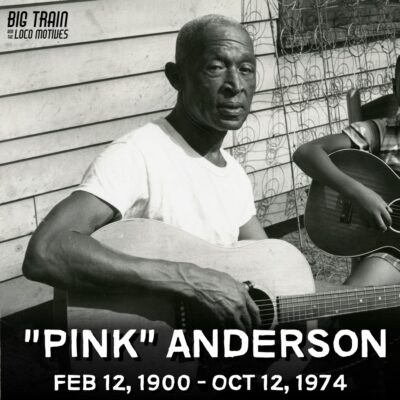 HEY LOCO FANS – Happy birthday to blues singer and guitarist Pinkney "Pink" Anderson born this day back in 1900. Syd Barrett, of English progressive rock band Pink Floyd, created the band's name by juxtaposing the first names of Anderson and North Carolina bluesman Floyd Council.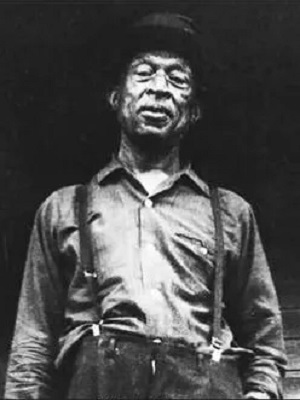 Pink Anderson was a throwback to a long-gone era even at the time of his recordings, his music included blues, folk music, ragtime, and traditional ballads.
Anderson was born in Laurens, South Carolina, and raised in nearby Greenville and Spartanburg. He joined Dr. William R. Kerr of the Indian Remedy Company in 1914 to entertain the crowds, while Kerr tried to sell a concoction purported to have medicinal qualities. He was employed not only as a musician and a singer but as a dancer and comedian.
During this time Anderson occasionally worked with Blind Simmie Dooley in the Spartanburg area, recording four titles with him in 1928. Anderson recorded four titles in 1928 but did not make another record until Harlem Street Spirituals in 1950 for Riverside. At that time he recorded such traditional folk material as "John Henry,' 'The Ship Titanic," and "Wreck of the Old 97."
In the 1950s Anderson toured with Leo "Chief Thundercloud" Kahdot and his medicine show, often with the harmonica player Arthur "Peg Leg Sam" Jackson.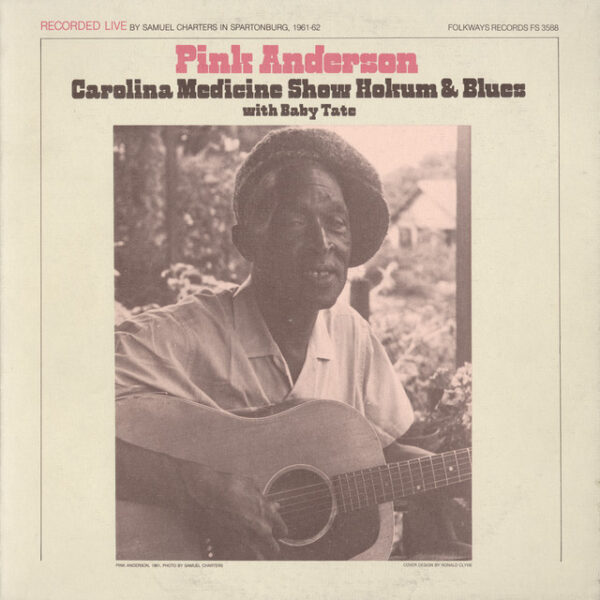 Anderson continued to work at parties, street fairs, and medicine shows during the first half of the 1950s before retiring for a time due to ill health.
Anderson was recorded by the folklorist Paul Clayton at the Virginia State Fair in May 1950, and in 1961 the Bluesville label recorded three albums of unaccompanied performances by Anderson, documenting him in Spartanburg, South Carolina. The titles of the three records, Carolina Blues Man, Medicine Show Man, and Ballad & Folksinger, vol. 3, sum up Pink Anderson's life well and are a large slice of the repertoire that he had performed during the previous 35 years.
He appeared in the 1963 film The Bluesmen. He reduced his activities in the late 1960s after a stroke. Attempts by the folklorist Peter B. Lowry to record Anderson in 1970 were not successful, although apparently he could occasionally summon up some of his past abilities. A final tour took place in the early 1970s with the aid of Roy Book Binder, one of his students, taking him to Boston and New York City.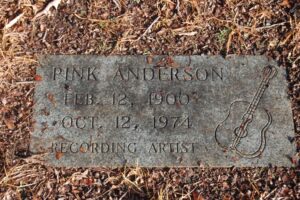 He died in October 1974 of a heart attack, at the age of 74. He is interred at Lincoln Memorial Gardens, in Spartanburg.
Anderson's son, known as Little Pink Anderson (born July 13, 1954), is a bluesman that had lived in Vermillion, South Dakota, the home of the University of South Dakota. On a side note, that's the place where I earned my master's degree. Small world, eh?