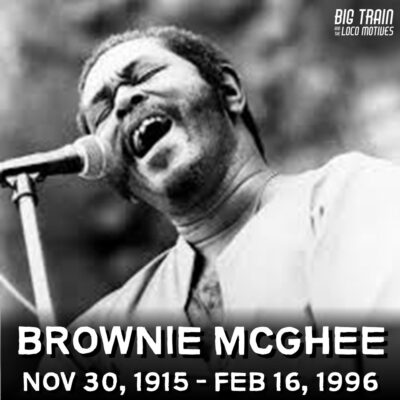 HEY LOCO FANS – Time to wish Brownie McGhee a big happy birthday! A Piedmont-style blues singer and guitarist, he's best known for his collaboration with the harmonica player Sonny Terry.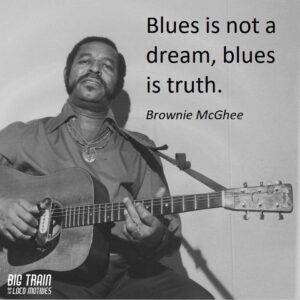 Born and raised in Tennessee, when he was 4 contracted polio, which incapacitated his right leg. His father, George McGhee, was known for playing guitar and singing. Brownie's uncle made him a guitar from a tin marshmallow box and a piece of board.
McGhee spent much of his youth immersed in music, singing with a local harmony group, playing guitar, five-string banjo, ukulele and piano. Surgery funded by the March of Dimes enabled McGhee to walk.
At age 22, McGhee became a traveling musician, working in the Rabbit Foot Minstrels and befriending Blind Boy Fuller, whose guitar playing influenced him greatly. McGhee recorded for Okeh Records in Chicago, but success when he moved to New York in 1942, and teamed up with harmonica player Sonny Terry. As a duo, Terry and McGhee did most of their work from 1958 until 1980, spending 11 months of each year touring and recording dozens of albums. They also appeared in the original Broadway productions of Finian's Rainbow and Cat on a Hot Tin Roof.
During the blues revival of the 1960s, Terry and McGhee were popular on the concert and music festival circuits, occasionally adding new material but usually remaining faithful to their roots and playing to the tastes of their audiences.
In the 1980s, McGhee appeared in small roles in films and on television.
One of McGhee's last concert appearances was at the 1995 Chicago Blues Festival. McGhee died of stomach cancer on February 16, 1996 in Oakland, California, at age 80.