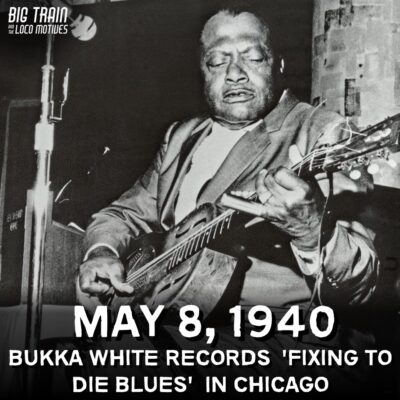 HEY LOCO FANS – On March 8, 1940 blues guitarist Bukka White recorded "Fixin' to Die Blues" in Chicago for record producer Lester Melrose. The song was written just days before, along with eleven others, at Melrose's urging.
White was resuming his recording career, which had been interrupted by his incarceration for two and one-half years at the infamous Parchman Farm prison in Mississippi. While there, White witnessed the death of a friend and "got to wondering how a man feels when he dies". His lyrics reflect his thoughts about his children and wife:
I'm looking funny in my eyes, an' I b'lieve I'm fixin' to die (2×)
I know I was born to die, but I hate to leave my children cryin' …
So many nights at the fireside, how my children's mother would cry (2×)
'Cause I ain't told their mother I had to say good-bye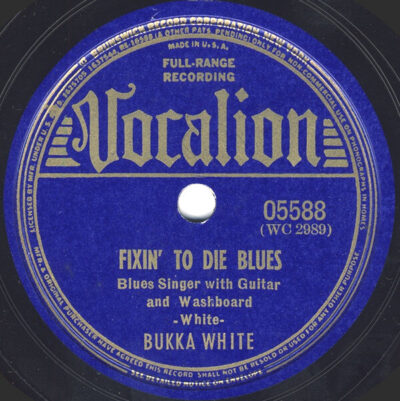 White provides the vocal and acoustic slide guitar (which was borrowed from Big Bill Broonzy) with backing by Washboard Sam. Despite the somber lyrics, the music carries a certain energy with White's bottleneck guitar. Music historian Ted Gioia notes that these recordings of White "come as close to art song as traditional blues has ever dared to go, but without losing any of the essential qualities of the Delta heritage". However, as with his other songs from the session, "Fixin' to Die Blues" did not capture the record buying public's interest. As a result, White largely retired from performing music, until a resurgence of interest in the early 1960s and the American folk music revival.
In 1961, folksinger Bob Dylan recorded "Fixin' to Die" for his debut album, released the following year. The album liner notes indicate that it "was learned from an old recording by Bukka White".
Mother, take my chillen back

Before they let me down

Before they let me down

Mother, take my chillen back

'Fore they let me down

Ain't no need a-them screamin' an cryin'

On the graveyard ground.