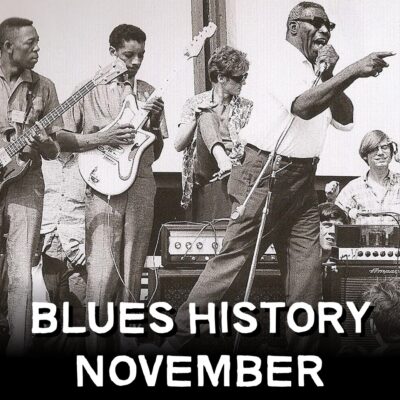 This is the history of the blues – one month at a time.
November 16, 1873 – W. C. Handy, American composer and musician known as the "Father of the Blues" (Memphis Blues, St Louis Blues), born in Florence, Alabama (d. 1958).
November 1, 1898 – Sippie Wallace (born Beulah Belle Thomas) was both born (1898) and died (1986) on November 1. Her early career in tent shows gained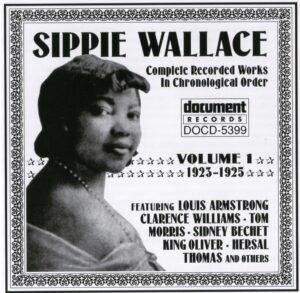 her the billing "The Texas Nightingale". Between 1923 and 1927, she recorded over 40 songs for Okeh Records, many written by her or her brothers, George and Hersal Thomas. Among the top female blues vocalists of her era, Wallace ranked with Ma Rainey, Ida Cox, Alberta Hunter, and Bessie Smith.
In the 1930s, she left show business to become a church organist, singer, and choir director in Detroit and performed secular music only sporadically until the 1960s, when she resumed her performing career. Wallace was nominated for a Grammy Award in 1982 and was inducted into the Michigan Women's Hall of Fame in 1993.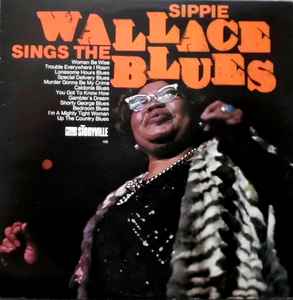 Wallace contributed to Louis Armstrong's album Louis Armstrong and the Blues Singers (1966), singing "A Jealous Woman Like Me", "Special Delivery Blues", "Jack o'Diamond Blues", "The Mail Train Blues" and "I Feel Good". She and Spivey recorded an album of blues standards, Sippie Wallace and Victoria Spivey, released in 1970 by Spivey's label, Spivey Records. In 1981, Wallace recorded the album Sippie for Atlantic Records, which earned her a 1983 Grammy nomination and won the 1982 W. C. Handy Award for Best Blues Album of the Year. Wallace's backup group was pianist Jim Dapogny's Chicago Jazz Band, consisting of Paul Klinger on cornet, Bob Smith on trombone and Russ Whitman and Peter Ferran on reeds.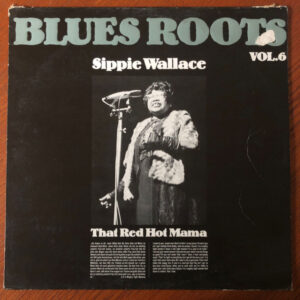 She appeared at the Newport Folk Festival in 1966 and 1967, toured Europe with the American Folk Blues Festival in 1966, performed at the Chicago Blues Festival in 1967 and the Ann Arbor Blues Festival in 1972, and appeared at Lincoln Center in New York in 1977. She appeared in the 1982 documentary Jammin' with the Blues Greats. She shared the stage with B.B. King at the Montreaux Jazz Festival on July 22, 1982, in a performance that was filmed and later broadcast.
In March 1986, following a concert at the Burghausen Jazz Festival in Germany, Wallace suffered a severe stroke and was hospitalized. She returned to the United States and died on her 88th birthday, at Sinai Hospital in Detroit. She is buried at Trinity Cemetery, in Detroit, Wayne County, Michigan.
November 14, 1905 – Blues singer and guitarist John Henry Barbee was born this day. He was born in Henning, Tennessee. He claimed that he was born William George Tucker and that he changed his name with the commencement of his recording career, in tribute to his favorite folk song, "The Ballad of John Henry", but this claim is not supported by census records, in which he is registered as the son of Beecher Barbee and Cora Gilford.
Barbee toured in the 1930s throughout the American South, singing and playing slide guitar. He teamed up with Big Joe Williams and, later, with Sunnyland Slim in Memphis, Tennessee. Traveling down to Mississippi, he met Sonny Boy Williamson and played with him off and on for several years. He released two sides for Vocalion Records in 1939 ("Six Weeks Old Blues" and "God Knows I Can't Help It"). The record sold well enough to cause Vocalion to call on Barbee again, but by that time he had left his last known whereabouts in Arkansas. Barbee explained that this sudden move was due to his evading the law for shooting and killing his girlfriend's lover. He later found out that he had only injured the man, but by the time this was discovered, Barbee was no longer making a career playing music.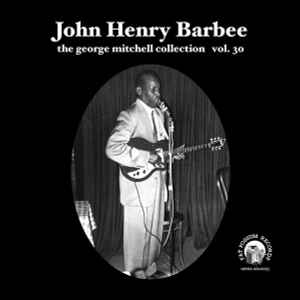 Barbee did not show up again in the music industry until the early 1960s, when a revival of interest in the blues was at its height. Willie Dixon searched for Barbee and found him working as an ice-cream server in Chicago, Illinois. In 1964, Barbee joined the American Folk Blues Festival on a European tour with other blues players, including Lightnin' Hopkins and Howlin' Wolf.
Barbee returned to the United States and used the money from the tour to purchase his first automobile. Ten days after buying the car, he accidentally ran over and killed a man. He was taken to a Chicago jail and died there of a heart attack a few days later, on November 3, 1964, 11 days before his 59th birthday. He is interred in the Restvale Cemetery, in Alsip, Illinois.
The third annual White Lake Blues Festival, held at the Howmet Playhouse Theater in Whitehall, Michigan, on May 11, 2010, was organized by executive producer Steve Salter, of the nonprofit organization Killer Blues, to raise monies to honor Barbee's unmarked grave with a headstone. The event was a success, and a stone was placed in June 2010.
November 12, 1906 – Bukka [Booker T. Washington] White, blues guitarist, born in Houston, Mississippi (d. 1977).
November 25, 1914 – Eddie Boyd, blues vocal/pianist (Mississippi) born.
November 30, 1915 – Walter Brown "Brownie" McGhee, Knoxville Tennessee, American blues singer/guitarist born.
November 11, 1926 – Louis Armstrong and his Hot Five begin their first recording session. Nicknamed Satchmo, Satch, and Pops, his career spanned five decades, from the 1920s to the 1960s. In 2017, he was inducted into the Rhythm & Blues Hall of Fame.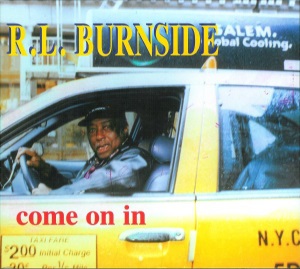 November 23, 1926 – R. L. Burnside, was born in Harmontown, Mississippi, in Lafayette County. He spent most of his life working as a sharecropper and a fisherman, as well as playing guitar at weekend house parties.
He was first inspired to play guitar in his early twenties, after hearing John Lee Hooker play. He learned music from Mississippi Fred McDowell, who lived nearby. He was also influenced by his cousin-in-law, Muddy Waters.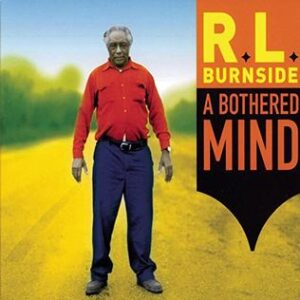 During the 1950s, Burnside moved to Chicago, Illinois to get a better job, but things did not turn out as he had hoped. Within one month, his father, brother, and uncle were all murdered in the city. He used this tragedy to help him write music. He used it mostly for his interpretation of Skip James's "Hard Time Killing Floor", "R.L.'s Story," and the opening and closing tracks on Burnside's 2000 album, Wish I Was In Heaven Sitting Down.
Around 1959, he left Chicago and went back to Mississippi to work the farms and raise a family. After a heart attack in 2001, Burnside's doctor advised him to stop drinking; Burnside did, but said that change stopped him from playing.
Members of his family continue to play blues in the Holly Springs area. His grandson, Cedric Burnside, tours with Kenny Brown, while his son Duwayne Burnside has played guitar with the North Mississippi Allstars. In 2004, the Burnside sons opened Burnside Blues Cafe, 30 miles southeast of Memphis in Holly Springs, Mississippi.
November 11, 1927 – American jazz and blues pianist, singer, and songwriter Mose Allison was born on this day. His songs have been covered by The Who, John Mayall, Elvis Costello, Georgie Fame, and many others. His music influenced many blues and rock artists, including Jimi Hendrix, the Rolling Stones, Tom Waits, and the Yardbirds. Allison died on 15 November 2016 aged 89.
November 11, 1928 – Ernestine Anderson, American jazz vocalist and blues singer, born in Houston, Texas (d. 2016).
November 25, 1928 – James "Jimmy" Johnson, American gospel and blues singer and guitarist, born in Holly Springs, Mississippi.
November 16, 1931 – Hubert Sumlin, American blues musician born.
November 20, 1932 – Wedding – Blues musician Muddy Waters (19) weds Mabel Berry.
November 10, 1933 – Mack Rice, American musician and the songwriter of that R & B classic "Mustang Sally", was born in Clarksdale, Mississippi (d. 2016).
November 29, 1933 – John Mayall, British blues musician (John Mayall & the Bluesbreakers), born in Macclesfield, England.
November 1, 1941 – Johnny Kendall, [Johan Donkerkaat], Dutch blues singer born.
November 13, 1942 – John P Hammond, American blues singer (So Many Roads), born in NYC, New York.
November 11, 1944 – Wedding – Blues musician B.B. King (19) marries his first wife Martha Denton.
November 8, 1949 – Bonnie Raitt, American blues country singer-songwriter (Green Light, The Glow), born in Burbank, California.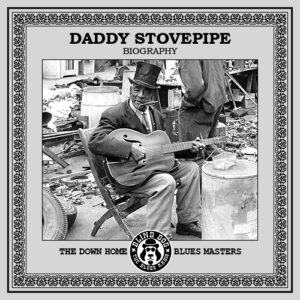 November 1, 1963 – Johnny "Daddy Stovepipe" Watson died November 1, 1963 at the age of 96. He was born in Mobile, Alabama on April 12, 1867. He is best known for his recordings under the name Daddy Stovepipe. Watson also recorded as Jimmy Watson, Sunny Jim and Rev. Alfred Pitts. He may have been the earliest-born blues performer to record.
His career began before 1900 in Mexico as a twelve-string guitarist in early mariachi bands. He then established himself as an entertainer with the Rabbit's Foot Minstrels touring around the southern states.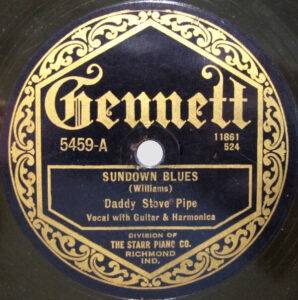 By the 1920s, he was working as a one-man band on Maxwell Street in Chicago, where he acquired the name "Daddy Stovepipe" from the characteristic top hat he wore. He first recorded in 1924, in Richmond, Indiana, recording "Sundown Blues" which is regarded as one of the most primitive blues on record. In 1927 he made more recordings, this time in Birmingham, Alabama for Gennett Records, as one half of the duo "Sunny Jim and Whistlin' Joe".
He made more recordings back in Chicago in 1931 for the Vocalion label with his wife, "Mississippi Sarah", a singer and jug player. The couple's humorous banter made their recordings unique. They recorded together again in 1935 for Bluebird Records, by which time they were living in Greenville, Mississippi, but Sarah's death in 1937 sent her husband back out on the road. He then worked for a while around Texas, playing in cajun bands and, again, with Mexican mariachi bands.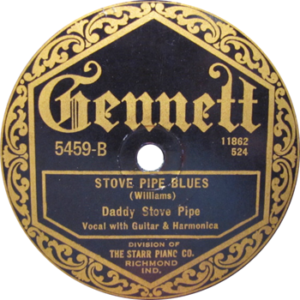 By 1948 he had returned to work as a street musician in Chicago, and was recorded in 1960, aged 93, with his repertoire having widened to include traditional popular music tunes such as "The Tennessee Waltz". He died in Chicago in 1963, from bronchial pneumonia after a gall bladder operation, aged 96.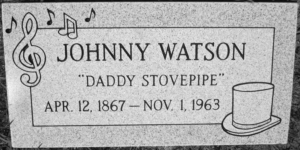 On May 5, 2012 the fifth annual White Lake Blues Festival took place at the Howmet Playhouse Theater in Whitehall, Michigan. The event was organized by Steve Salter of the nonprofit organization Killer Blues to raise monies to honor Watson's unmarked grave with a headstone. The concert was a success, and a headstone was placed in July, 2012.
November 3, 1964 – John Henry Barbee was taken to a Chicago jail and died there of a heart attack a few days later, on November 3, 1964, 11 days before his 59th birthday.
November 2, 1966 – Mississippi John Hurt, American blues singer and guitarist, died this day in 1966 at the age of 73. Born John Smith Hurt on March 8, 1893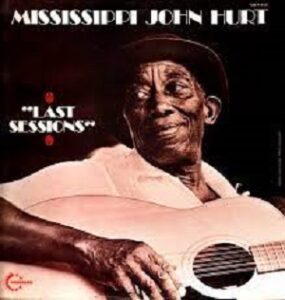 he was raised in Avalon, Mississippi, Hurt taught himself to play the guitar around the age of nine. He worked as a sharecropper and began playing at dances and parties, singing to a melodious fingerpicked accompaniment. His first recordings, made for Okeh Records in 1928, were commercial failures, and he continued to work as a farmer.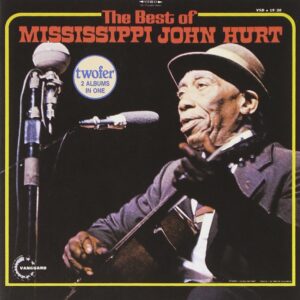 Dick Spottswood and Tom Hoskins, a blues enthusiast, located Hurt in 1963 and persuaded him to move to Washington, D.C. He was recorded by the Library of Congress in 1964. This helped further the American folk music revival, which led to the rediscovery of many other bluesmen of Hurt's era. Hurt performed on the university and coffeehouse concert circuit with other Delta blues musicians who were brought out of retirement. He also recorded several albums for Vanguard Records.
Hurt returned to Mississippi, where he died, in Grenada, a year later.
Material recorded by him has been re-released by many record labels. His songs have been recorded by Bob Dylan, Dave Van Ronk, Jerry Garcia, Beck, Doc Watson, John McCutcheon, Taj Mahal, Bruce Cockburn, David Johansen, Bill Morrissey, Gillian Welch, Josh Ritter, Chris Smither, Guthrie Thomas, Parsonsfield, and Rory Block.
November 8, 1968 – James "Kokomo" Arnold – who passed away on November 8 in 1968. Mr. Arnold is laid to rest at Burr Oak Cemetery in Chicago.
November 9, 1970 – Susan Tedeschi was born this day in Boston, Massachusetts. She is a multiple Grammy Award nominee, she is a member of the Tedeschi Trucks Band, a conglomeration of her band, her husband Derek Trucks's the Derek Trucks Band, and other musicians.
November 18, 1971 – [Herman] Junior Parker, American blues singer and musician (Mystery Train), dies during brain operation at 39.
November 16, 1980 – O. V. [Overton Vertis] Wright, American blues singer, dies at 41.
November 1, 1986 – Sippie Wallace [Beulah Belle Thomas], American blues singer, (Women Be Wise) dies at 88.
November 24, 1993 – Albert Collins, blues guitarist (Don't Lose Your Cool), dies at 61.
November 25, 1997 – Fenton Robinson, US blues guitarist (Tennessee Woman), dies at 62.
November 8, 1998 – Lonnie Pitchford, American blues musician, dies at 43.
November 28, 2002 – Dave "Snaker" Ray, American blues musician died (b. 1943).
November 2, 2004 – Guitarist Eric Clapton collected his CBE from Buckingham Palace for his services to music.
November 21, 2006 – Robert Lockwood Jr., American blues guitarist, dies at 91.