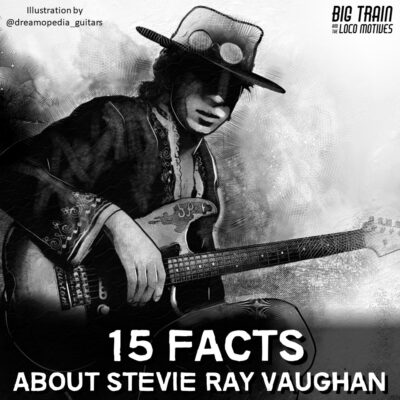 HEY LOCO FANS – Did you now all of these? Then you're an SRV trivia expert. Are there a couple that you disagree with? Then let us know.
1. In 1982, Stevie Ray Vaughan and Double Trouble was the first unsigned band to book the Montreux Jazz Festival. At that performance David Bowie saw SRV play and asked to record with him.
2. SRV then played lead guitar on several tracks of "Let's Dance." It is Bowie's best-selling record to date.
3. One of the first Austin bands that Stevie Ray Vaughan played in called Paul Ray and the Cobras, who played around Austin in the 1970s.
4. Stevie Ray Vaughan would frequently hit the stage at Antone's Night Club in its original location in Sixth Street.
5. Vaughan was the first white performer to win the W.C. Handy Blues Foundation's Blues Entertainer of the Year award.
6. SRV's first guitar was from his brother Jimmie–a hollow-body Gibson Messenger
7. In addition to his brother Jimmy Vaughan, SRV cited Jimi Hendrix, Albert King and BB King among his greatest influences.
8. Stevie Ray first picked up a guitar at age 8, despite originally wanting to play the drums.
9. SRV is the winner of six Grammy awards and 10 Austin Music Awards.
10. John Mayer considers Stevie Ray Vaughan his guitar hero, and even has "SRV" tattooed on his arm.
11. SRV was tragically killed in a helicopter crash leaving a concert just 36 days shy of his 36th birthday.
12. SRV collapsed on stage during a European tour, prompting him to seek treatment for drug and alcohol addiction.
13. Following his path to sobriety, SRV said, "I just want to thank God that I'm alive. And I want to thank all the people that loved me back to life so that I could be here with you today."
14. The Rolling Stones hired Double Trouble to play at a private party for in New York City in 1982.
15. SRV is buried in the Laurel Land Cemetery in Dallas, Texas.
Illustration courtesy of @dreamopedia_guitars
Stevie Ray Vaughan Live @ Starwood Amph. Nashville, TN 09/06/1987