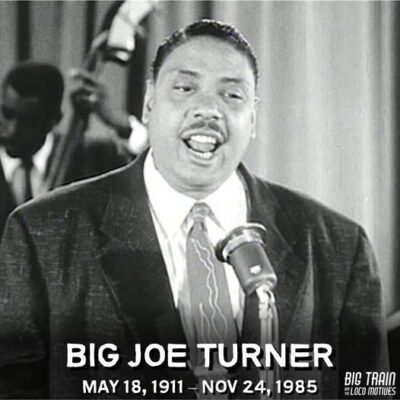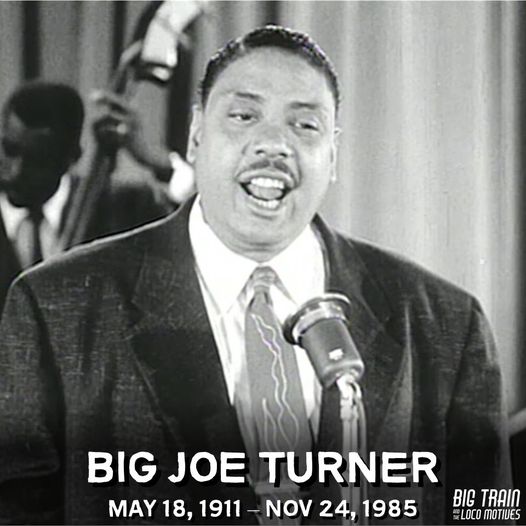 HEY LOCO FANS – Happy Birthday to Big Joe Turner! The premier blues shouter of the postwar era, Big Joe Turner's roar could rattle the very foundation of any gin joint he sang within — and that's without a microphone.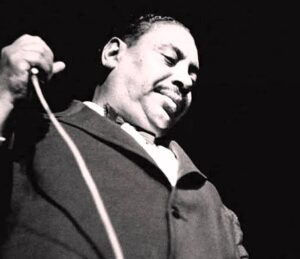 Turner was a resilient figure in the history of blues — he effortlessly spanned boogie-woogie, jump blues, even the first wave of rock & roll, enjoying great success in each genre. Turner, whose powerful physique certainly matched his vocal might, was a product of the swinging, wide-open Kansas City scene.
Even in his teens, the big-boned Turner looked entirely mature enough to gain entry to various K.C. niteries. He ended up simultaneously tending bar and singing the blues before hooking up with boogie piano master Pete Johnson during the early '30s. On December 23, 1938, they appeared on the fabled Spirituals to Swing concert at Carnegie Hall on a bill with Big Bill Broonzy, Sonny Terry, the Golden Gate Quartet, and Count Basie. Turner and Johnson performed "Low Down Dog" and "It's All Right, Baby" on the historic show, kicking off a boogie-woogie craze that landed them a long-running slot at the Cafe Society.
Turner went on to create a number of Blues and R&B hits over the following decades including:
"Roll 'Em Pete" (1938), available in many versions over the years; used in the million-dollar opening scene of Spike Lee's film Malcolm X)
"Chains of Love" (1951), Turner's first million-seller, reaching the million sales mark by 1954
"Honey Hush" (1953), Turner's second million-seller
"Shake, Rattle and Roll" (1954)
"Flip, Flop and Fly" (1955), sold a million copies over the years
"Cherry Red" (1956)
"Corrine, Corrina" (1956), his fourth million-seller
"Wee Baby Blues" (1956)
"Love Roller Coaster" (1956) "Midnight Special" (1957)
After a number of successes in this vein, Turner quit popular music and resumed singing with small jazz combos, recording numerous albums in that style during the 1960s and 1970s. in 1966, Bill Haley helped revive Turner's career by lending him the Comets for a series of popular recordings for the Orfeón label in Mexico. In 1977 he recorded a cover version of Guitar Slim's song, "The Things That I Used to Do".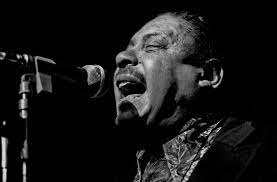 During the 1960s and 1970s he resumed performing jazz and blues music, performing at many music festivals and recording for Norman Granz's Pablo Records. He also worked with Axel Zwingenberger. Turner also participated in a "Battle of the Blues" with Wynonie Harris and T-Bone Walker.
In 1965, he toured in England with the trumpeter Buck Clayton and the trombonist Vic Dickenson, accompanied by Humphrey Lyttelton and his band. Part of a studio concert was televised by the BBC and later issued on DVD. A sound recording of a club appearance made during this tour is not thought of sufficient sound quality to justify commercial issue. He also toured Europe with Count Basie and his orchestra.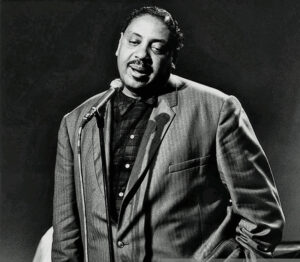 He won the Esquire magazine award for male vocalist in 1945, the Melody Maker award for best "new" vocalist of 1956, and the British Jazz Journal award as top male singer of 1965. In 1977, Turner recorded "I'm Gonna Sit Right Down and Write Myself a Letter" for Spivey Records, with Lloyd Glenn on piano. Turner's career endured from the barrooms of Kansas City in the 1920s (when at the age of twelve he performed with a pencilled moustache and his father's hat) to European jazz festivals of the 1980s.
In 1983, two years before his death, Turner was inducted into the Blues Hall of Fame. That same year, the album Blues Train was released by Mute Records; the album featured Turner with the band Roomful of Blues. Turner received top billing with Count Basie in the Kansas City jazz reunion movie The Last of the Blue Devils (1979), featuring Jay McShann, Jimmy Forrest, and other players from the city.
He was inducted into the Rock and Roll Hall of Fame in 1987, lauding him as "the brawny voiced 'Boss of the Blues'".