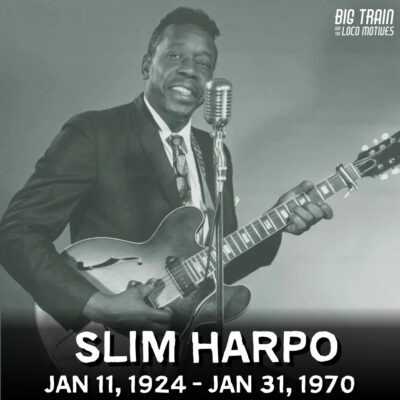 HEY LOCO FANS – Time to celebrate swamp blues maestro Slim Harpo who was born on this day in 1924 in Lobdell, LA!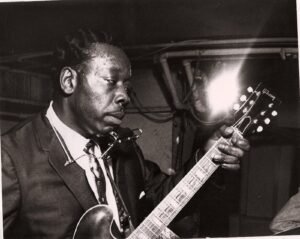 Born James Isaac Moore, after his parents died he worked as a longshoreman and construction worker in New Orleans in the late 1930s and early 1940s. Influenced in style by Jimmy Reed, he began performing in Baton Rouge bars using the name "Harmonica Slim", and also accompanied his brother-in-law Lightnin' Slim in live performances.
He started his recording career in March 1957. To differentiate himself from another performer called Harmonica Slim he took his wife's suggestion and adopted the name Slim Harpo. His first solo release, was "I'm a King Bee", backed with "I Got Love If You Want It". He followed up with several more singles and his first chart hit, "Rainin' in My Heart", in early 1961. Many of his songs were co-written with his wife, Lovelle Moore, although she never received credit.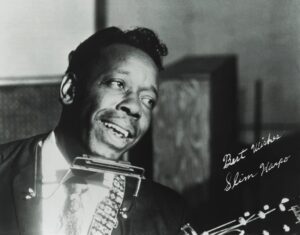 Never a full-time musician, Harpo owned a trucking business during the 1960s. But, by 1964, several of his songs had been released on albums and singles in the UK, and British rock bands began to include versions of his songs in their early repertoires.
He recruited Lightnin' Slim for his touring band in 1968, and toured widely in the late 1960s, mainly reaching rock audiences. With his first scheduled tour of Europe and recording sessions already planned, one of the cleanest living bluesmen of his era died suddenly of a heart attack in Baton Rouge in January 1970 aged 46.
His songs have been covered by artists on both sides of the Atlantic, including the Rolling Stones, Yardbirds, Kinks, Van Morrison with Them, Hank Williams, Jr., and the Fabulous Thunderbirds.