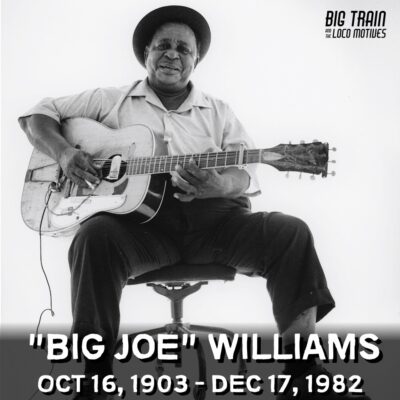 HEY LOCO FANS – Let's sing Happy Birthday today to Joseph Lee "Big Joe" Williams born October 16, 1903. This Delta blues guitarist, singer and songwriter, notable for the distinctive sound of his nine-string guitar.
Born near Crawford, Mississippi, as a youth began wandering across the United States busking and playing in stores, bars, alleys and work camps. In the early 1920s he worked in the Rabbit Foot Minstrels revue. He recorded with the Birmingham Jug Band in 1930 for Okeh Records.
While in St. Louis in 1935 he signed with Bluebird Records and recorded such blues hits as "Baby, Please Don't Go" (1935) and "Crawlin' King Snake" (1941), both of which were later covered by many other musicians. He also recorded with Sonny Boy Williamson, Robert Nighthawk and Peetie Wheatstraw. Around this time he was reportedly married to St. Louis blues singer Bessie Mae Smith, who he sometimes credited with writing "Baby Please Don't Go".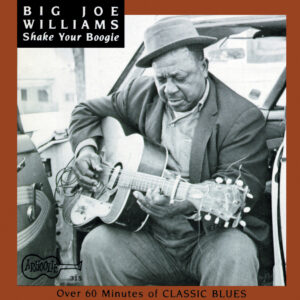 During the early 1930s, Williams was accompanied on his travels through the Mississippi Delta by a young Muddy Waters. Williams recounted to Blewett Thomas, "I picked Muddy up in Rolling Fork when he was about 15. He went all 'round the Delta playin' harmonica behind me. But I had to put him down after a while. All these women were comin' up to me and sayin', 'Oh. your young son is so nice!' See, I had to put Muddy down because he was takin' away my women."
Williams remained a noted blues artist in the 1950s and 1960s. He became a regular on the concert and coffeehouse circuits, touring Europe and Japan in the late 1960s and early 1970s and performing at major U.S. music festivals.
Williams died December 17, 1982, in Macon, Mississippi.
He was inducted into the Blues Hall of Fame on October 4, 1992, and in 2003, Williams was honored with a marker on the Mississippi Blues Trail in Crawford.