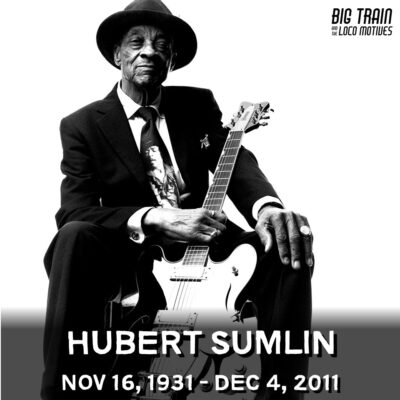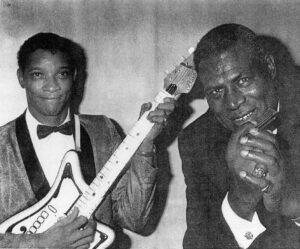 HEY LOCO FANS – Happy BDay to the outstanding Chicago blues guitarist Hubert Sumlin born this day in 1931. As a member of Howlin' Wolf's band, his guitar playing has been called "wrenched, shattering bursts of notes, sudden cliff-hanger silences and daring rhythmic suspensions".
Sumlin was born in Greenwood, Mississippi, and raised in Hughes, Arkansas. He got his first guitar when he was eight years old. As a boy, he met Howlin' Wolf by sneaking into a performance.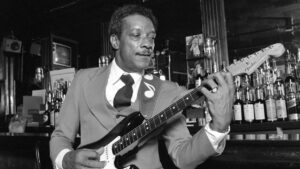 Wolf relocated to Chicago in 1953 and in 1954 Wolf invited Sumlin to move to Chicago to play guitar in his band. With the exception of a short stint playing with Muddy Waters in 1956, Sumlin played in Howlin' Wolf's band for the remainder of Wolf's career. According to Sumlin, Howlin' Wolf sent him to a classical guitar instructor at the Chicago Conservatory of Music to learn keyboards and scales. Sumlin played on the album Howlin' Wolf (called the "rocking chair album", with reference to its cover illustration), which was named the third greatest guitar album of all time by Mojo magazine in 2004.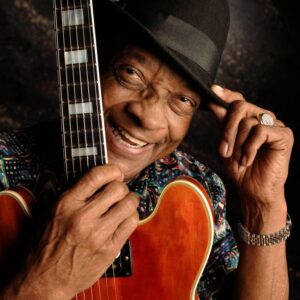 After Wolf died 1976, Sumlin continued playing with several other members of Wolf's band, as the Wolf Gang, until about 1980. He also recorded under his own name. His last solo album released in 2004 featured performances by Keith Richards, Eric Clapton, Levon Helm, David Johansen and James Cotton. He underwent lung removal surgery the same year, but he continued performing until just before his death. He died of heart failure on December 4, 2011, at the age of 80, in a hospital in Wayne, New Jersey. Mick Jagger and Keith Richards paid Sumlin's funeral expenses.
Sumlin was inducted into the Blues Foundation Hall of Fame in 2008, was nominated for four Grammy Awards and won multiple Blues Music Awards. He was a judge for the fifth annual Independent Music Awards, given to support the careers of independent artists.
He was ranked number 43 in Rolling Stone's "100 Greatest Guitarists of All Time".