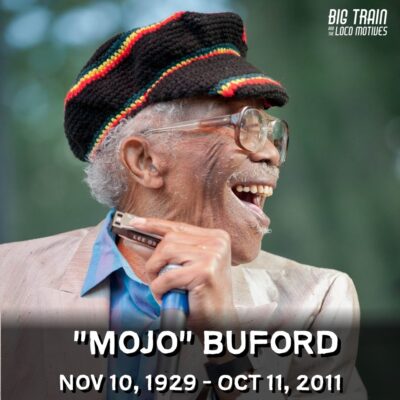 HEY LOCO FANS – We can't let today go by without wishing a Happy Birthday to "Mojo" Buford!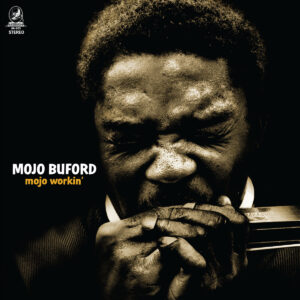 George Buford was born in Hernando, Mississippi, on November 10, 1929. When he moved to Memphis, he was inspired at age twelve to start playing the harmonica by performers such as B. B. King and Little Walter As his harp playing progressed, he set his sights on Chicago and moved there in 1954. Soon he started a group called The Savage Boys with Sam Burden and Dave Members. The band attracted much attention from Muddy Waters, also a Mississippi native blues performer. The Savage Boys then became the Muddy Waters Jr. Band because they began playing at local clubs when Muddy got out-of-town gigs.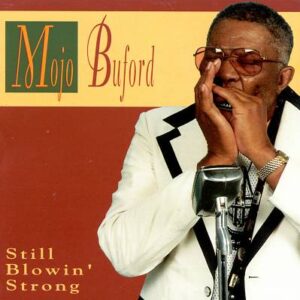 In the 1950s, Buford was working as a janitor when Muddy Waters asked him to take the place of George Smith who had recently quit the band before their tour. This job was Buford's chance to show his talent in places outside of Chicago. Buford played with the Waters band for three years. Then he started off on his own.
He began his own work in St. Paul-Minneapolis. Here he gained his nickname "Mojo" because of the crowds continuously requesting his version of "Got My Mojo Working."
Buford returned to Chicago to play for Muddy's band again, and this time he took the place of James Cotton. They toured the U.S., Canada, Australia, England, and most of Western Europe. Buford also recorded on one of the tours. Buford spent another two years with Muddy Waters before returning to the Twin Cities. Back in St. Paul-Minneapolis, Buford began working with a number of performers such as Sonny Rodgers, S.P. Leary, Lazy Bill Lucas, Pat Hare, Pee Wee Madison, and many more. He also inspired many young, local musicians. During the 1970s Buford toured twice with Waters but also kept up on his own work. He recorded many singles, LP's, and CD's on foreign labels during this decade.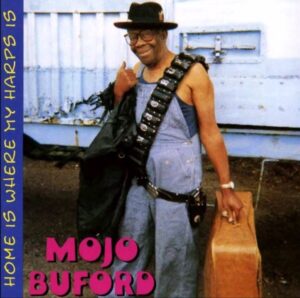 In the late 1980's Buford signed a deal with the record company Blue Loon and released Champagne & Reefer and Early One Morning. Then in 1993 he released his album Harpslinger and in 1996 he released Still Blowin Strong, which spread his music to a larger audience in the U.S. and Europe. His most recent album is Home Is Where My Harp Is, which was released in 1998.
Buford died on October 11, 2011, at the age of 81, in Minneapolis, after a long hospitalization.