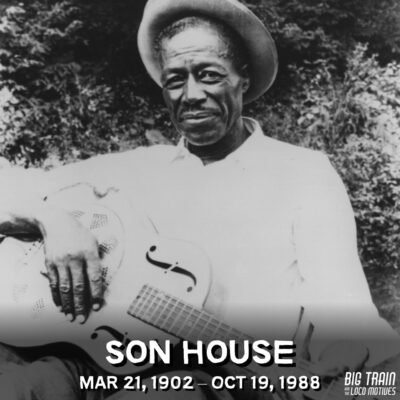 HEY LOCO FANS – Happy Birthday to the great Son House. He was a major innovator of the Delta style, along with his playing partners Charley Patton and Willie Brown.
Few listening experiences in the blues are as intense as hearing one of Son House's original 1930s recordings for the Paramount label. Entombed in a hailstorm of surface noise and scratches, one can still be awestruck by the emotional fervor House puts into his singing and slide playing. Little wonder then that the man became more than just an influence on some white English kid with a big amp; he was the main source of inspiration to both Muddy Waters and Robert Johnson , and it doesn't get much more pivotal than that.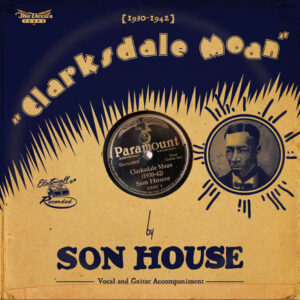 Son House was a towering figure in the history of Delta blues, a contemporary of Charley Patton and Robert Johnson who cut epochal recordings in the 1930s and '40s and went on to an impressive career revival after he was rediscovered in the 1960s. House's best work is among the most emotionally vivid of the country blues, with the slash and sharp strum of his guitar a powerful match for the moaning wail of his voice in his songs of love, faith, and lives gone wrong, and his original 1930s recordings for Paramount Records and his later field recordings from 1941 and 1942 for the Library of Congress can be savored on the 2004 collection A Proper Introduction to Son Hose: Delta Blues. House was also among the few blues artists of the '30s whose sides (after they were rediscovered) nearly matched the originals for emotional power and impact, and his 1965 Columbia Records album The Legendary Son House: Father of the Delta Blues was a revelatory experience for blues fans on first release. The 2003 compilation Heroes of the Blues: The Very Best of Son House includes a sampling of tracks from all three periods of his career, and 2022's Forever on my Mind made one of his first post-comeback performances available for the first time.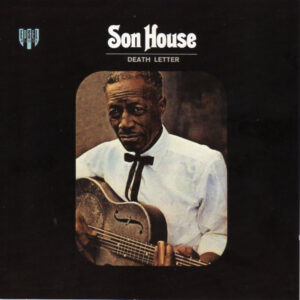 Son House was born Edward James House, Jr. on March 21, 1902, in Lyon, Mississippi, the second of three siblings. His father was a part-time musician as well as an elder in the Baptist church who struggled with alcoholism as his son was growing up but would later renounce the bottle. Son took up singing early, but initially avoided blues music as it was forbidden in his father's church. By the time Son was eight years old, his parents had separated and with his mother he relocated to Tallulah, Louisiana, and in his early teens they settled in New Orleans, making their home in the Algiers neighborhood. Son was a frequent churchgoer in this period, and when he was fifteen he began preaching sermons. At nineteen years old, House married Carrie Martin, who was several years his senior, and they moved to Centerville, Louisiana, where they worked her father's farm. A few years later, their marriage was in tatters and House left her in 1922, shortly after the death of his mother.
House worked a variety of odd jobs before he became a paid pastor first at a Baptist church, and later at a Colored Methodist Episcopal church. He was said to be an effective preacher, but he fell into his father's habits and began drinking to excess and chasing women, which led him to leaving the church. House had given up on preaching when at age 25, while hanging out with one of his drinking buddies, he saw a man playing bottleneck guitar and was immediately obsessed with the sound of the instrument. He soon bought a guitar and was a quick study, playing out with his friends James McCoy, Willie Wilson, and Frank Hoskins within a matter of weeks. Not long after House began performing in public, he was performing at a jook joint when a patron pulled a gun and started shooting. House took a bullet in his leg and he returned fire. The shooter died, and House was sentenced to fifteen years at the Mississippi State Penitentiary, also known as Parchman Farm. House was released in two years, when his family and the planter they worked for spoke on his behalf.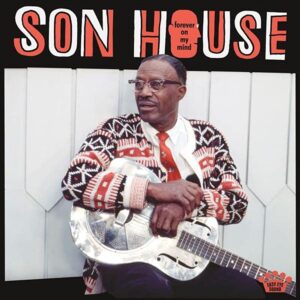 After his release, House ended up in Lula, Mississippi, which was also the home of Country blues titan Charley Patton. Patton and House became friends, and House performed alongside him and fellow bluesman Willie Brown. In 1930, a producer from Paramount Records came to Lula to persuade Patton to record new material for them. After hearing House, they opted to do a session with him as well. Paramount's Art Laibly cut nine songs on House, and eight of them saw release on 78s issued in 1930 and 1931. None of the releases sold especially well, and the inferior material Paramount used for their pressings meant they wore out quickly. But one person who heard and appreciated them was Alan Lomax, the esteemed ethnomusicologist who conducted field recordings of American regional music for the Library of Congress. In 1941, when House was making a living driving a tractor for several plantations in Mississippi, Lomax invited him to record a session for him, and House agreed, with accompaniment from Willie Brown on guitar, Fiddlin' Joe Martin on mandolin, and Leroy Williams on harmonica. (Charley Patton had been six years dead by this time and was unable to join them.) In 1942, Lomax recorded a second session with House, but by 1943 he had moved to Rochester, New York, and taken a job with the New York Central Railroad. He soon gave up performing music.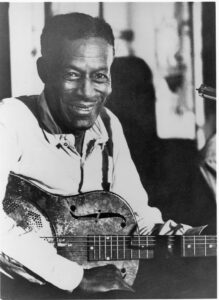 In 1964, Dick Waterman and a handful of other blues fans who were researching Delta blues artists of the 1920s and '30s heard House's classic Paramount recordings and traveled to Mississippi in hopes of finding him. When they learned he'd moved to Rochester years ago, they headed Northeast and soon discovered House was still working for the railroad and had not played guitar for years. Under their encouragement, House relearned his old songs with the help of Alan Wilson, who would later form the blues-rock band Canned Heat. With Dick Waterman as his manager, House, who had previously been unaware of his reputation among young blues and folk fans, started performing again in late 1964, and in 1965 he signed with Columbia Records, which released his comeback album The Legendary Son House: Father of the Delta Blues later that year. (In 2022, Easy Eye Sound issued a collection of previously unreleased live recordings made just prior to House's comeback sessions, titled Forever on my Mind.)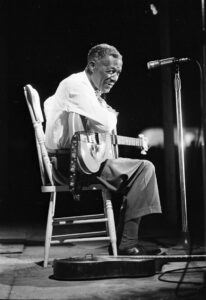 In the years that followed, House became a frequent presence at blues festivals, clubs, and the college concert circuit, as fans enjoyed the rare opportunity to witness one of the major figures of the Delta blues live and in person. A handful of live albums would document this period of his career, including The Oberlin College Concert, Delta Blues and Spirituals, and Live at the Gaslight Cafe, 1965. By the early '70s, House was struggling with both Alzheimer's and Parkinson's disease, and in 1976, unable to play guitar or remember his lyrics, he retired from music for good. House settled in Detroit, Michigan, with his wife Evie, whom he had married in 1934, and they lived quietly until his death on October 19, 1988, at the age of 86.
Son House – "Death Letter Blues"
"Death Letter Blues." From the Vestapol DVD "Legends of Country Blues Guitar, Vol. One."