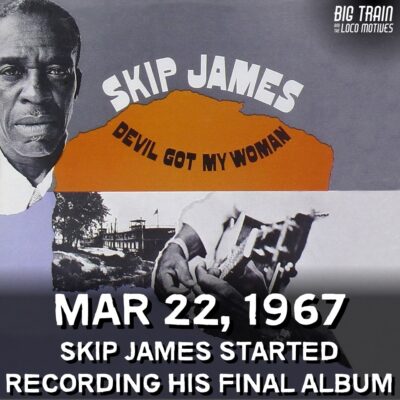 HEY LOCO FANS – Blues legend Skip James started recording his final album on this day in 1967 and wrapped it up two days later on March 24. "Devil Got My Woman" is the fourth studio album by Skip James and was released in 1968. It was his last record before his death in 1969.
His guitar playing is noted for its dark, minor-key sound, played in an open D-minor tuning with an intricate fingerpicking technique. James first recorded for Paramount Records in 1931, but these recordings sold poorly, having been released during the Great Depression, and he drifted into obscurity.
After a long absence from the public eye, James was rediscovered in 1964 by blues enthusiasts including John Fahey, helping further the blues and folk music revival of the 1950s and early 1960s. During this period, James appeared at folk and blues festivals, gave concerts around the country, and recorded several albums for various record labels. His songs have influenced generations of musicians and have been adapted by numerous artists. He has been hailed as "one of the seminal figures of the blues."
Here's the track listing:
1. Good Road Camp Blues – 3:47
2. Little Cow and Calf Is Gonna Die Blues – 3:20
3. Devil Got My Woman – 5:10
4. Look at the People Standing at the Judgement – 2:58
5. Worried Blues – 5:55
6. 22-20 Blues – 3:50
7. Mistreating Child Blues – 3:54
8. Sickbed Blues – 4:05
9. Catfish Blues – 4:35
10. Lorenzo Blues – 4:17
11. Careless Love – 3:59
About the Title Track
"Devil Got My Woman" was the first song Skip James recorded in 1931 for Paramount Records, and also the first song he sang at his historic Newport Folk Festival performance in 1964. James had just been rediscovered in June of that year in a Tunica, Mississippi, hospital. With only a borrowed guitar, James opened his 15-minute set with, 'I'd rather be the devil, than to be that woman's man'. James took up guitar around 1917 under the tutelage of Son Stuckey, who played a piece called 'Devil Got My Woman'.
James' music never had the uplifting entertainment value of others like John Hurt or Charley Patton. Instead, James' goal was to startle with his musicianship and emotional tones. In 1924, James suffered a near breakdown when his short-lived marriage to a 16-year-old daughter of a clergyman ended with her running off with a male friend; though James knew the title, 'Devil Got My Woman' could be his cold assessment of that event. When James auditioned for H.C. Speir in Jackson, Mississippi, he needed only two stanzas of 'Devil Got My Woman' to get a two-year recording contract with Paramount Records. Though James' 'Hard Time Killin' Floor Blues' was revived in the movie, Oh Brother, Where Art Thou?, "Devil Got My Woman" remains the quintessential Skip James song.
— (Blues Foundation press release, 2006.)
"Devil Got My Woman"  studio album by Skip James.